When to use a concrete wall saw.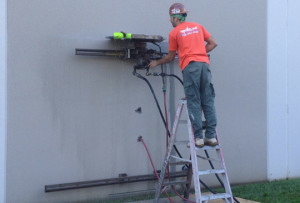 Concrete wall saws are typically used on vertical surfaces when a new doorway, window or HVAC openings are needed. Wall sawing employs a diamond blade on a track-mounted system that can be used for vertical or horizontal cuts. These saws run on hydraulic or electric power and are also commonly referred to as concrete track saws. Wall sawing allows for precise cuts in both concrete and masonry structures.
Wall sawing can be performed up to 30″ deep. Cutting can also be performed from both sides of the wall, giving a total depth of up to 60″. If your opening requires a specific angle through the concrete, this saw can accommodate.
Typical Applications Include:
Straight, smooth finished openings in walls, ceilings, and floors
Accurately sized, fixture ready openings
Bevel cutting for a chamfered edge
Flush cutting against the surface
Wall sawing employs a circular diamond blade on a track-mounted machine. The track is attached to horizontal walls or steep inclines that will not permit the use of flat saws. Wall or track sawing is typically specified to cut precise dimensional door, vent and window openings. It is also an excellent choice for creating precise openings in any concrete structure.
Generally speaking, a concrete wall saw is more versatile than a slab saw. We can cut just about anything that you can mount a track or rail to. At JEM Concrete we have even used a concrete wall saw to turn large boulders into functional benches – by using a custom track system, we don't even need to start with a flat surface. While we start out with smaller blades for a guaranteed straight cut, we stock blades as large as 72″ in diameter, allowing for a cut that is 30-32″ deep.
With custom rails we have cut the inside of a circle. We also commonly use concrete wall saws for stairs, both to remove them, or make them narrower.
Down side to concrete wall sawing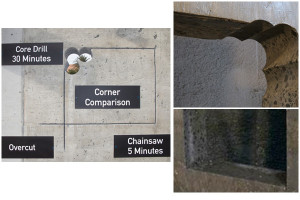 One issue in with round blades is that the corner cuts cannot be completed without over cutting. If the opening is going to be trimmed out or the aesthetics of the cut are not important then overcuts won't be an issue. For an 8″ thick wall, you can expect an overcut on ONE side of 3-1/2″. The opposite side of the wall will have no overcut. With an opening that cannot have over cuts, the chainsaw does a great job of cleaning these corners out as illustrated. This added cost is an affordable solution to the old style way of coring the corners that left scallops that needed to be chipped. Chain sawing is limited in its depth to 24″.
Other Applications for Vertical Cutting Include Ring Sawing or Hand Sawing
Ring sawing or hand sawing is commonly employed when general wall sawing cannot be performed. Hand held units can be gas, electric, or hydraulic. Hand sawing provides portable, quick cutting with minimal over-cuts. Like the wall saws and flat saws, the concrete chain saws can cut flush if requested. If we cannot utilize water in our cutting process, hand sawing can be accomplished dry. Specific Dry Sawing is available up to 4-1/2″ deep utilizing a protective cover and a HEPA vacuum. This is "dry" process has been used in ceilings over surgical suites, data centers, and other sensitive environments.
Typical Applications for Concrete Chain Sawing Include:
Electrical and plumbing openings
Ventilation and air conditioning openings
Eliminating overcuts and corner cutting
Small, tightly accessed areas
Concrete Beam and Pipe cutting